Company announces plans for world's largest indoor vertical farm
---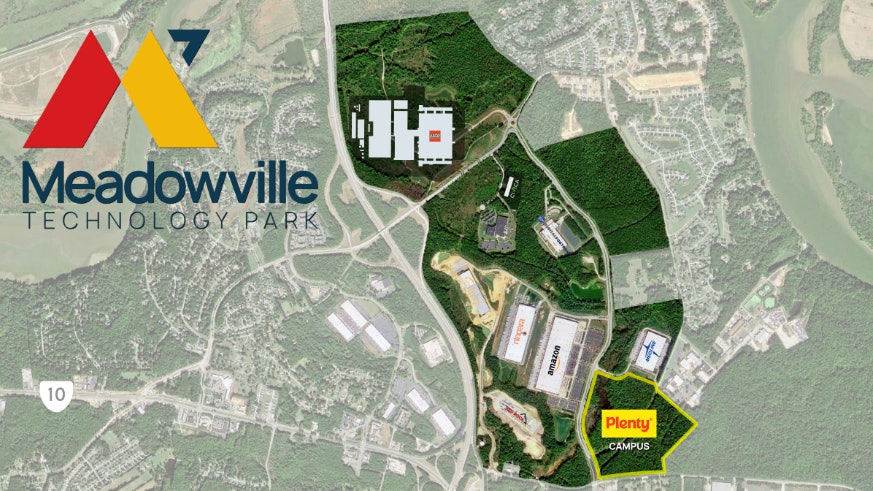 RICHMOND, Va. — Virginia Governor Glenn Youngkin announced Wednesday that California-based Plenty Unlimited Inc. will build the world's largest indoor vertical farming campus, a $300 million investment, at Meadowville County Technology Park. Chesterfield.
The company recently secured $400 million in a Series E funding round, the largest investment yet for an indoor farming company. Plenty has developed the world's most advanced indoor farm, powered by over 200 of the company's patented assets, to efficiently and sustainably grow clean, great-tasting produce all year round on its 30+ foot grow towers. Plenty will complete its Richmond Farm Campus in phases over the next six years, creating more than 300 full-time jobs. The company's first farm on this site, a dedicated Driscoll's berry farm to be completed by winter 2023-2024, will be the first to grow vertically grown strawberries indoors on a large scale.
Virginia successfully competed with five other states for the project, further solidifying the Commonwealth's reputation as a leader in the fast-growing controlled-environment agriculture industry.
"Plenty's decision to establish its first major vertical agriculture campus on the East Coast in Virginia highlights the advantages that make the Commonwealth the best location in the country for companies that grow our food safely and sustainably in the world. 'inside," Youngkin said. "This transformational project further strengthens Virginia's agriculture and technology industries and positions the Commonwealth as a leader in this next generation of agriculture. I am delighted to welcome Plenty to Virginia and look forward to the growth and success of the business in Chesterfield County.
"At Plenty, we are on a mission to sustainably grow fresh food for everyone, everywhere," said Plenty CEO Arama Kukutai. "This campus will raise the bar on what indoor vertical farming has to offer. The scale and sophistication of what we are building here in Virginia will make it possible to economically grow a variety of products with superior quality and flavor. We look forward to to continue to work closely with the government of Virginia as we strive to rewrite the rules of agriculture.
Founded in 2014, Plenty is rewriting the rules of agriculture with its state-of-the-art technology platform that can grow fresh produce anywhere in the world, all year round, with peak season quality and up to 350 times more yield. per acre than conventional farms. Plenty's proprietary approach conserves the world's natural resources, makes healthy products available to all communities and builds resilience in our food systems against weather, location, pests and climate.
Plenty operates the largest indoor plant scientific research facility of its kind in Laramie, Wyoming, and is currently building the world's most advanced vertical indoor plant farm in Compton, California.
The Virginia Economic Development Partnership and the Virginia Department of Agriculture and Consumer Services worked with Chesterfield County, the Greater Richmond Partnership and Dominion Energy to secure the project for Virginia. Youngkin approved a $2.4 million grant from the Commonwealth's Opportunity Fund, as well as a $500,000 grant from the Governor's Agriculture and Forestry Industries Development Fund to help Chesterfield County win this project for Virginia. The company is eligible to receive benefits from the Port of Virginia Economic and Infrastructure Development Area grant program, as well as the Large Business Employment Tax Credit for new full-time jobs created.
Plenty's job creation support will be provided through the Virginia Talent Accelerator Program, a workforce initiative created by VEDP in conjunction with the Virginia Community College System and other higher education partners. , with financial support from the Governor's Administration and the Virginia General Assembly. Launched in 2019, the program accelerates the start-up of new facilities through the direct delivery of recruitment and training services fully tailored to a company's unique products, processes, equipment, standards and culture. All program services are provided free of charge to qualified new and expanding businesses as an incentive for job creation.