Lockheed delivers long-range hypersonic weapon to military
---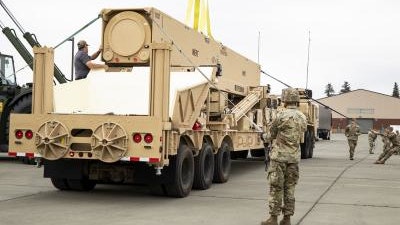 Ground equipment for the long-range hypersonic weapons program has been delivered to Joint Base Lewis-McChord. Photo credit: US Army. The appearance of visual information from the US Department of Defense does not imply or constitute DoD approval.
Lockheed Martin
Lockheed Martin yesterday delivered essential ground equipment to the U.S. military for its Long Range Hypersonic Weapons System (LRHW) – as part of a rapid, multi-year hypersonic weapons development program supporting the focus by the service on long-range precision shots.
In a ceremony held today at Joint Base Lewis-McChord, the U.S. military and industry team celebrated this delivery of ground equipment, including the operations center battery and four erector transporter launchers.
The overall system is being developed in partnership with the US Army's Rapid Capabilities and Critical Technologies Office and its Hypersonic Project Office. Led by Lockheed Martin, other industry teammates include Dynetics, General Atomics, General Dynamics, i3, Moog, Northrop Grumman, Penta Research, Raytheon, and Verity Integrated Systems.
The Lockheed Martin LRHW contract was initially awarded in 2019. Future flight tests are scheduled for fiscal year 2022-2023, and the program remains on track.
Earlier this week, Lockheed Martin open an intelligent and advanced hypersonic production facility at its Courtland, Alabama site.
Designed and built with the latest digital tools, factory work will focus on producing much of the company's hypersonic portfolio, including LRHW.
Hypersonic weapons are a key aspect of the military's long-range marksmanship modernization effort and national security strategy to compete and overtake potential adversaries.