One-stop solution provider hands over US facility on schedule
---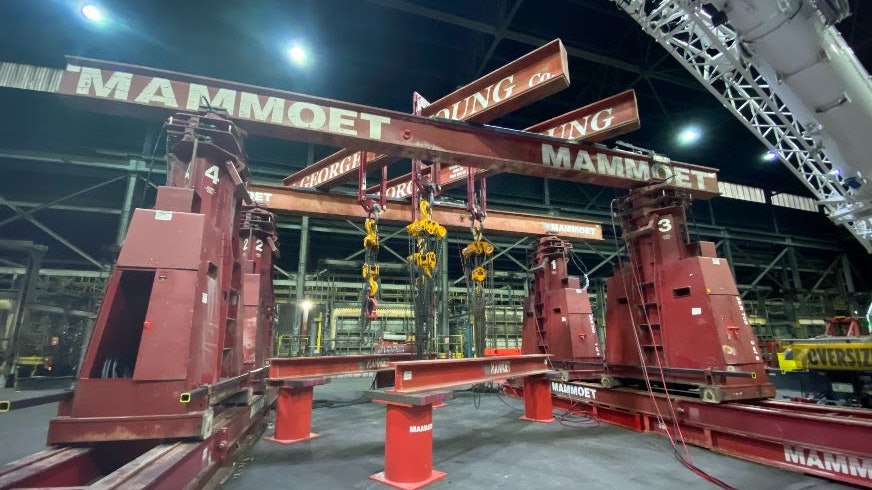 Mammoet's gantry ready to lift.
Mammoet
Carpenter Technology Corp., a manufacturer of specialty metal alloys for multiple industries, including the aerospace, transportation and defense markets in Pennsylvania, encountered an unexpected mechanical failure of its hydraulic press that halted operations and required emergency repair.
The press is a highly specialized piece of equipment that is essential to the production of such materials. An emergency shutdown for necessary repairs was required on short notice.
The lower beam of the press, made of cast steel, cracked in two 20 meters (60 feet) below the surface of the warehouse, abruptly interrupting normal operations.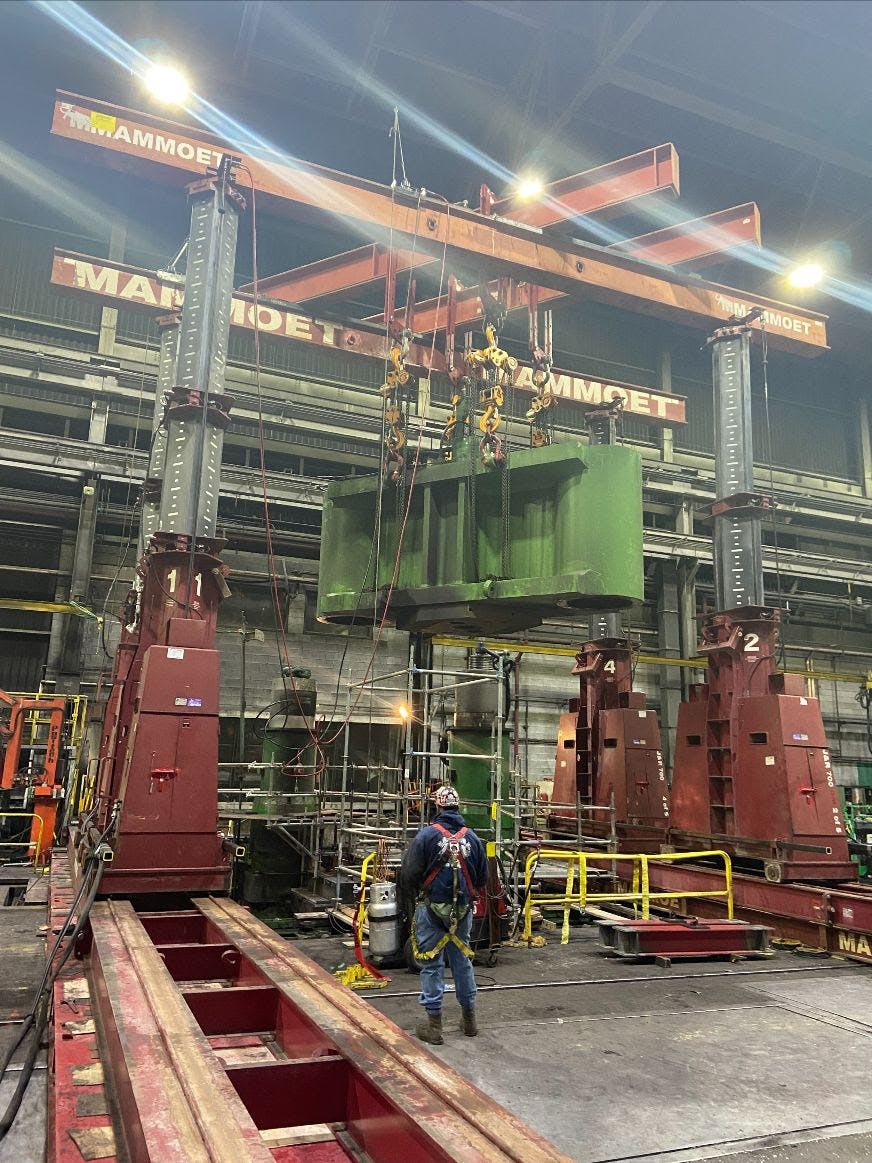 Stable gantryMammoet
The client contacted a few local contractors for help. A local company offered cranes as a possible solution. However, cranes alone would not provide sufficient lifting capacities and a gantry crane was deemed necessary.
Mammoet offered a complete solution and equipment such as cranes, trailers and a gantry system. He also provided the skilled labor of riggers, operators and millwrights to restore the press to working order.
Based on a prior relationship with the client and because Mammoet could quickly mobilize the necessary equipment and expertise, Carpenter Technology chose Mammoet for the job.
Mammoet provided heavy lifting solutions to dismantle the entire 4,500 tonne press, with overall dimensions of approximately 30 meters long x 9 meters wide x 6 meters high (100 x 30 x 20 ft ). This allowed the team to remove and replace key components.
Mammoet used their 750 ton gantry as well as a 500 ton gantry to lift and stabilize the press for repairs and maintenance. The unit has been lifted and held securely and stable to allow replacement of components prior to reassembly of the press.
A 40 ton forklift helped lift and move the heavy parts during the disassembly and reassembly of the press. Meanwhile, a 500 ton crane was used to remove the guide columns from the press through a hatch in the roof of the warehouse.
Twelve lines of Goldhofer PST trailer axles were used to move the parts from the warehouse to the storage area during the dismantling phase and then back again to bring the parts back inside during the assembly phase.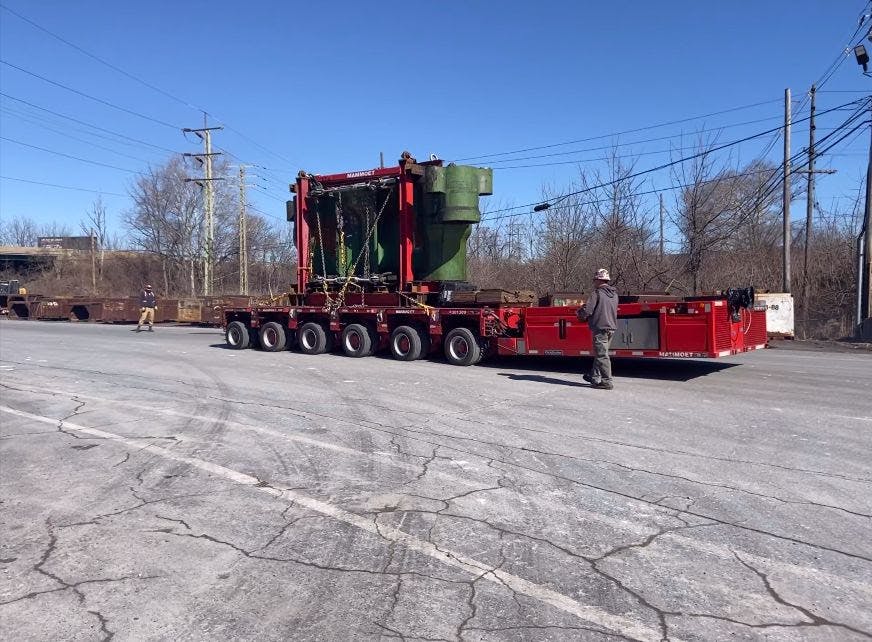 Transport of press componentsMammoet
Mammoet sourced equipment and personnel from its facilities in Texas, New Jersey and Eastern Canada while working around the clock to cover 24 hours a day, with crews working seven days of twelve rotating hours. Mammoet provided a multidisciplinary team with varied expertise including riggers, millwrights, oilers, operators as well as engineering, safety and project management.
Over 42 crew members in total were on site throughout the project which lasted nine weeks and over 28,000 man hours to cover both lifting operations and client commissioning activities. Mammoet faced very urgent operational challenges, but still met the completion date.
Mammoet's Industrial Services team based in Swedesboro, New Jersey is uniquely knowledgeable and skilled in millwrighting. For this project, millwrights needed to ensure precise alignment of all hydraulic press components to maintain required tolerances. When the press was commissioned and operational again, everything worked well and according to plan.
All repairs were completed within the company's timeline, allowing its staff to once again focus on meeting customer demand in the aerospace supply chain.
mammoet.com